10 Famosos que se Convirtieron en Adultos Increíblemente Sexys
Estos actores se hicieron famosos cuando apenas eran unos niños y llevaron su éxito hasta la cúspide, pero que fueran reconocidos no quiere decir que siempre fueron guapos o bellas, incluso algunos pueden resultar irreconocibles.
En este top te presento 10 estrellas del séptimo arte, que se convirtieron con los años, en adultos muy sexys. Esto es Noticias de Actualidad – Tops.
Número 10. Josh Peck
Josh Peck es conocido por su papel de Josh Nichols en la serie de televisión de Nickelodeon "Drake y Josh". Hoy en día Josh Peck sigue haciendo papeles en Tv. Le prestó su voz al personaje de Casey Jones en la serie de Las Tortugas Ninjas y fue co-protagonista de la serie de FOX, Grandfathered.
Número 9. Dakota Fanning
Empezó haciendo anuncios publicitarios y luego en algunas series de televisión, sin embargo, Dakota Fanning obtuvo reconocimiento mundial debido a su participación en la película Mi nombre es Sam, en 2001. Actualmente se desempeña como modelo, apareció en la saga Crepúsculo y en 2016 participó en la película American Pastoral.
Número 8. Abigail Breslin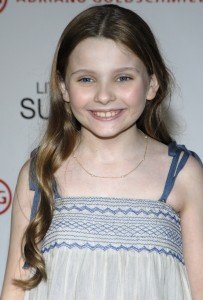 Abigail Breslin apareció en su primer comercial cuando tenía tres años de edad y fue nominada al Óscar a mejor actriz de reparto cuando interpretó a "Olive" en la película Pequeña Miss Sunshine, en 2006. En 2012 firmó con un sello discográfico independiente y debutó como cantante y sigue su carrera como actriz, recientemente en películas como El Juego de Ender y Final Girl.
Número 7. Jonathan Lipnicki
Es conocido por su participación en películas como Doctor Dolittle, El Pequeño Vampiro y por su inolvidable papel de George Little en la película Stuart Little. Ahora, el actor estadounidense se destaca por sus contribuciones a la caridad y por ser portavoz internacional de Quiropráctica Pediátrica Infantil.
Número 6. Daniel Curtis Lee
Daniel Curtis Lee comenzó su carrera como actor a la edad de siete años en su ciudad natal de Clinton, Mississippi. Fue tres años más tarde que consiguió su papel principal en una película de Hollywood, Friday After Next en 2002, en la que hizo el papel del chico malo, y que lo convirtió en algo serio en episodios de televisión, pues el papel que más lo dio a conocer fue cuando interpretó a Simon Nelson "Cookie" Cook en la exitosa comedia de Nickelodeon "Manual de supervivencia escolar de Ned, en 2004.  Daniel es comediante, cantante, maestro de ceremonias, compositor, guitarrista, baterista y atleta.
Número 5. Isabelle Fuhrman
Esta actriz estadounidense es mejor conocida por su interpretación de Esther en la película de terror La huérfana y por Clove, tributo femenino del distrito dos en Los juegos del hambre. En 2011 interpretó a Angie Vanderveer en la comedia Salvation Boulevard, también participó en un episodio de la serie The Whole Truth, interpretando a Lyric Byrne. Sus más actuales proyectos en cine fueron The Between (2013) como Michelle, y participó en la película The Wilderness of James (2015), interpretando a Val.
Número 4. Georgie Henley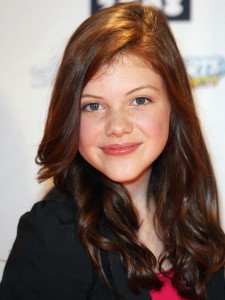 Georgie Henley fue conocida por su papel de Lucy Pevensie, en Las Crónicas de Narnia, película en la que ganó el Premio de la Sociedad de críticos de cine de Phoenix a la mejor actriz joven, en el año 2005, cuando solo tenía 10 años de edad. Ha escrito dos libros: The Snow Stag y The Phillar of Secrets. También se le conoció por modelar ropa para la pasarela de Alberta Ferretti en 2011.
Número 3. Daveigh Chase
Daveigh Chase comenzó en el mundo artístico bailando y cantando, pero no se dio a conocer hasta que interpreto el papel de la perversa Samara en la película El Aro. Anteriormente había participado en otras producciones como la película Donnie Darko, donde interpretaba a Samantha Darko. Su última participación fue en la película para televisión Killer Crush en el año 2015.
Número 2. Alexa Vega
Esta actriz y cantante estadounidense es conocida por interpretar a Carmen Cortez en la saga de películas de Spy Kids. Ha estado presente en la radio y en comerciales desde los dos años. Ha aparecido en diferentes programas de televisión y también ha protagonizado diferentes películas en donde ha sido protagonista, como The Hunters, El Remanente y Una Mansión Embrujada.
Número 1. Scarlett Johansson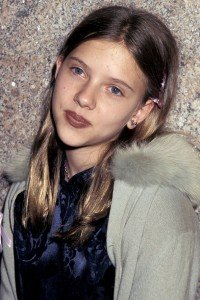 Desfila por el mundo del cine desde los 10 años, pero su papel protagónico lo obtuvo en Manny y Lo, donde interpretó a la pequeña Amanda. Actualmente la actriz tiene 31 años y continúa siendo uno de los íconos de la pantalla grande, siendo protagonista en películas como Los Vengadores, Iron Man, Lucy, Capitán América y ya firmó para las secuelas de Avengers que se realizarán en 2018 y 2019.
Y a ti, cuál de estas estrellas fue la que más te sorprendió por sus cambios físicos, deja ya tus comentarios abajo, suscríbete y no olvides compartir el vídeo, hasta la próxima.